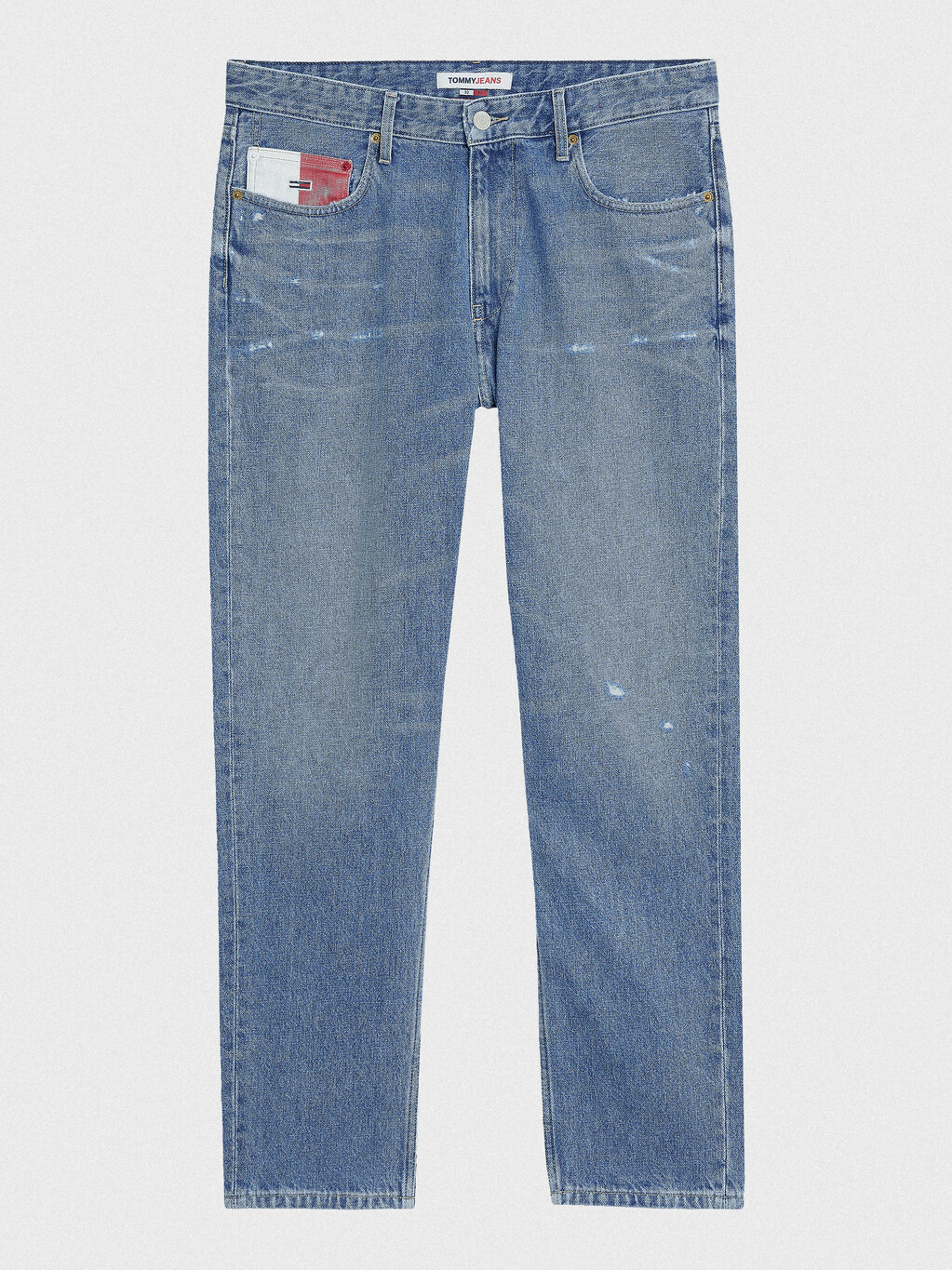 Get A Free Eco Mug Upon Purchase Of HKD 1000
These jeans with subtle fading and distressed detailing come with hemp in the denim for comfort and durability.
Highlights
Cotton hemp blend denim
Fading
Distressing on front
Five-pocket styling
Tommy Jeans branding
Tommy Jeans flag patch on coin and back pockets
Shape & fit
Regular fit
Tapered leg
Our model is 1.86m and wears size 32/34
Composition & care
80% cotton, 20% hemp
14.15oz denim
Now shipping to Hong Kong
Standard delivery is usually within 5-7 working days
Sale items being sold at a discount of 30% or more, fragrance, underwear bottoms (men's, women's, boys' and girls'), socks and earrings are not eligible for return or refund 
Visit our customer services section for more information regarding payment methods, returns policy or contact our customer service team for further questions
Size Guide
To help you choose the best size, we recommend that you compare each product's measurements with your own.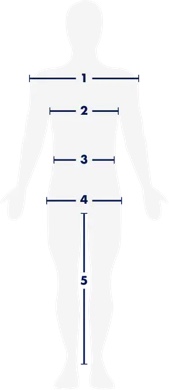 SHOULDER

From shoulder tip to shoulder tip

CHEST

The fullest part of your bust (keep measuring tape horizontal).

WAIST

The slimmest part of your natural waistline – above you navel and below your ribcage.

Hips

The fullest part of your hips at the top of your legs – approximately nine inches below your natural waistline.

INSIDE LEG

From the top of your inside leg at the crotch to your ankle.
All sizes are approximate.
| LABEL (XS - XXL) | XS | S | M | L | XL | XXL |
| --- | --- | --- | --- | --- | --- | --- |
| US + UK SIZE | 28 | 30 | 32 | 34 | 36 | 38 |
| FR + IT SIZE | 44 | 46 | 48 | 50 | 52 | 54 |
| EU SIZE | 44 | 46 | 48 | 50 | 52 | 54 |
| Waist | 82 | 86 | 90 | 94 | 98 | 102 |
| Hips | 93.5 | 97.5 | 101.5 | 105.5 | 109.5 | 113.5 |
| Inside Leg | 81 | 81.5 | 82 | 82.5 | 83 | 83.5 |
| LABEL (XS - XXL) | XS | S | M | L | XL | XXL |
| --- | --- | --- | --- | --- | --- | --- |
| US + UK SIZE | 28 | 30 | 32 | 34 | 36 | 38 |
| FR + IT SIZE | 44 | 46 | 48 | 50 | 52 | 54 |
| EU SIZE | 44 | 46 | 48 | 50 | 52 | 54 |
| Waist | 32 1/4 | 33 7/8 | 35 3/8 | 37 | 38 1/2 | 40 1/8 |
| Hips | 36 3/4 | 38 3/8 | 39 7/8 | 41 1/2 | 43 1/8 | 44 3/4 |
| Inside Leg | 31 7/8 | 32 1/8 | 32 1/4 | 32 1/2 | 32 5/8 | 32 7/8 |
| LABEL (24 - 34) | 27 | 28 | 29 | 30 | 31 | 32 | 33 | 34 | 36 | 38 | 40 |
| --- | --- | --- | --- | --- | --- | --- | --- | --- | --- | --- | --- |
| US SIZE | x | 28 | x | 30 | x | 32 | x | 34 | 36 | 38 | 40 |
| UK SIZE | x | 28 | x | 30 | x | 32 | x | 34 | 36 | 38 | 40 |
| FR SIZE | x | 44 | x | 46 | x | 48 | x | 50 | 52 | 54 | 56 |
| IT SIZE | x | 44 | x | 46 | x | 48 | x | 50 | 52 | 54 | 56 |
| EU SIZE | 27 | 28 | 29 | 30 | 31 | 32 | 33 | 34 | 36 | 38 | 40 |
| Waist | 71.1 | 73.7 | 76.2 | 78.7 | 81.3 | 83.8 | 86.4 | 88.9 | 94 | 99.1 | 104.1 |
| Hips | 87.6 | 90.2 | 92.7 | 95.3 | 97.8 | 100.3 | 102.9 | 105.4 | 110.5 | 115.6 | 120.65 |
| Inside Leg | 76.2 | 76.2 | 76.2 | 76.2 | 76.2 | 76.2 | 76.2 | 76.2 | 76.2 | 76.2 | 76.2 |
| LABEL (24 - 34) | 27 | 28 | 29 | 30 | 31 | 32 | 33 | 34 | 36 | 38 | 40 |
| --- | --- | --- | --- | --- | --- | --- | --- | --- | --- | --- | --- |
| US SIZE | x | 28 | x | 30 | x | 32 | x | 34 | 36 | 38 | 40 |
| UK SIZE | x | 28 | x | 30 | x | 32 | x | 34 | 36 | 38 | 40 |
| FR SIZE | x | 44 | x | 46 | x | 48 | x | 50 | 52 | 54 | 56 |
| IT SIZE | x | 44 | x | 46 | x | 48 | x | 50 | 52 | 54 | 56 |
| EU SIZE | 27 | 28 | 29 | 30 | 31 | 32 | 33 | 34 | 36 | 38 | 40 |
| Waist | 28 | 29 | 30 | 31 | 32 | 33 | 34 | 35 | 37 | 39 | 41 |
| Hips | 34 1/2 | 35 1/2 | 36 1/2 | 37 1/2 | 38 1/2 | 39 1/2 | 40 1/2 | 41 1/2 | 43 1/2 | 45 1/2 | 47 1/2 |
| Inside Leg | 30 | 30 | 30 | 30 | 30 | 30 | 30 | 30 | 30 | 30 | 30 |
| LABEL (24 - 34) | 27 | 28 | 29 | 30 | 31 | 32 | 33 | 34 | 36 | 38 | 40 |
| --- | --- | --- | --- | --- | --- | --- | --- | --- | --- | --- | --- |
| US SIZE | x | 28 | x | 30 | x | 32 | x | 34 | 36 | 38 | 40 |
| UK SIZE | x | 28 | x | 30 | x | 32 | x | 34 | 36 | 38 | 40 |
| FR SIZE | x | 44 | x | 46 | x | 48 | x | 50 | 52 | 54 | 56 |
| IT SIZE | x | 44 | x | 46 | x | 48 | x | 50 | 52 | 54 | 56 |
| EU SIZE | 27 | 28 | 29 | 30 | 31 | 32 | 33 | 34 | 36 | 38 | 40 |
| Waist | 71.1 | 73.7 | 76.2 | 78.7 | 81.3 | 83.8 | 86.4 | 88.9 | 94 | 99.1 | 104.1 |
| Hips | 87.6 | 90.2 | 92.7 | 95.3 | 97.8 | 100.3 | 102.9 | 105.4 | 110.5 | 115.6 | 120.65 |
| Inside Leg | 81.3 | 81.3 | 81.3 | 81.3 | 81.3 | 81.3 | 81.3 | 81.3 | 81.3 | 81.3 | 81.3 |
| LABEL (24 - 34) | 27 | 28 | 29 | 30 | 31 | 32 | 33 | 34 | 36 | 38 | 40 |
| --- | --- | --- | --- | --- | --- | --- | --- | --- | --- | --- | --- |
| US SIZE | x | 28 | x | 30 | x | 32 | x | 34 | 36 | 38 | 40 |
| UK SIZE | x | 28 | x | 30 | x | 32 | x | 34 | 36 | 38 | 40 |
| FR SIZE | x | 44 | x | 46 | x | 48 | x | 50 | 52 | 54 | 56 |
| IT SIZE | x | 44 | x | 46 | x | 48 | x | 50 | 52 | 54 | 56 |
| EU SIZE | 27 | 28 | 29 | 30 | 31 | 32 | 33 | 34 | 36 | 38 | 40 |
| Waist | 28 | 29 | 30 | 31 | 32 | 33 | 34 | 35 | 37 | 39 | 41 |
| Hips | 34 1/2 | 35 1/2 | 36 1/2 | 37 1/2 | 38 1/2 | 39 1/2 | 40 1/2 | 41 1/2 | 43 1/2 | 45 1/2 | 47 1/2 |
| Inside Leg | 32 | 32 | 32 | 32 | 32 | 32 | 32 | 32 | 32 | 32 | 32 |
| LABEL (24 - 34) | 27 | 28 | 29 | 30 | 31 | 32 | 33 | 34 | 36 | 38 | 40 |
| --- | --- | --- | --- | --- | --- | --- | --- | --- | --- | --- | --- |
| US SIZE | x | 28 | x | 30 | x | 32 | x | 34 | 36 | 38 | 40 |
| UK SIZE | x | 28 | x | 30 | x | 32 | x | 34 | 36 | 38 | 40 |
| FR SIZE | x | 44 | x | 46 | x | 48 | x | 50 | 52 | 54 | 56 |
| IT SIZE | x | 44 | x | 46 | x | 48 | x | 50 | 52 | 54 | 56 |
| EU SIZE | 27 | 28 | 29 | 30 | 31 | 32 | 33 | 34 | 36 | 38 | 40 |
| Waist | 71.1 | 73.7 | 76.2 | 78.7 | 81.3 | 83.8 | 86.4 | 88.9 | 94 | 99.1 | 104.1 |
| Hips | 87.6 | 90.2 | 92.7 | 95.3 | 97.8 | 100.3 | 102.9 | 105.4 | 110.5 | 115.6 | 120.65 |
| Inside Leg | 86.4 | 86.4 | 86.4 | 86.4 | 86.4 | 86.4 | 86.4 | 86.4 | 86.4 | 86.4 | 86.4 |
| LABEL (24 - 34) | 27 | 28 | 29 | 30 | 31 | 32 | 33 | 34 | 36 | 38 | 40 |
| --- | --- | --- | --- | --- | --- | --- | --- | --- | --- | --- | --- |
| US SIZE | x | 28 | x | 30 | x | 32 | x | 34 | 36 | 38 | 40 |
| UK SIZE | x | 28 | x | 30 | x | 32 | x | 34 | 36 | 38 | 40 |
| FR SIZE | x | 44 | x | 46 | x | 48 | x | 50 | 52 | 54 | 56 |
| IT SIZE | x | 44 | x | 46 | x | 48 | x | 50 | 52 | 54 | 56 |
| EU SIZE | 27 | 28 | 29 | 30 | 31 | 32 | 33 | 34 | 36 | 38 | 40 |
| Waist | 28 | 29 | 30 | 31 | 32 | 33 | 34 | 35 | 37 | 39 | 41 |
| Hips | 34 1/2 | 35 1/2 | 36 1/2 | 37 1/2 | 38 1/2 | 39 1/2 | 40 1/2 | 41 1/2 | 43 1/2 | 45 1/2 | 47 1/2 |
| Inside Leg | 34 | 34 | 34 | 34 | 34 | 34 | 34 | 34 | 34 | 34 | 34 |
| LABEL (24 - 34) | 27 | 28 | 29 | 30 | 31 | 32 | 33 | 34 | 36 | 38 | 40 |
| --- | --- | --- | --- | --- | --- | --- | --- | --- | --- | --- | --- |
| US SIZE | x | 28 | x | 30 | x | 32 | x | 34 | 36 | 38 | 40 |
| UK SIZE | x | 28 | x | 30 | x | 32 | x | 34 | 36 | 38 | 40 |
| FR SIZE | x | 44 | x | 46 | x | 48 | x | 50 | 52 | 54 | 56 |
| IT SIZE | x | 44 | x | 46 | x | 48 | x | 50 | 52 | 54 | 56 |
| EU SIZE | 27 | 28 | 29 | 30 | 31 | 32 | 33 | 34 | 36 | 38 | 40 |
| Waist | 71.1 | 73.7 | 76.2 | 78.7 | 81.3 | 83.8 | 86.4 | 88.9 | 94 | 99.1 | 104.1 |
| Hips | 87.6 | 90.2 | 92.7 | 95.3 | 97.8 | 100.3 | 102.9 | 105.4 | 110.5 | 115.6 | 120.65 |
| Inside Leg | 91.4 | 91.4 | 91.4 | 91.4 | 91.4 | 91.4 | 91.4 | 91.4 | 91.4 | 91.4 | 91.4 |
| LABEL (24 - 34) | 27 | 28 | 29 | 30 | 31 | 32 | 33 | 34 | 36 | 38 | 40 |
| --- | --- | --- | --- | --- | --- | --- | --- | --- | --- | --- | --- |
| US SIZE | x | 28 | x | 30 | x | 32 | x | 34 | 36 | 38 | 40 |
| UK SIZE | x | 28 | x | 30 | x | 32 | x | 34 | 36 | 38 | 40 |
| FR SIZE | x | 44 | x | 46 | x | 48 | x | 50 | 52 | 54 | 56 |
| IT SIZE | x | 44 | x | 46 | x | 48 | x | 50 | 52 | 54 | 56 |
| EU SIZE | 27 | 28 | 29 | 30 | 31 | 32 | 33 | 34 | 36 | 38 | 40 |
| Waist | 28 | 29 | 30 | 31 | 32 | 33 | 34 | 35 | 37 | 39 | 41 |
| Hips | 34 1/2 | 35 1/2 | 36 1/2 | 37 1/2 | 38 1/2 | 39 1/2 | 40 1/2 | 41 1/2 | 43 1/2 | 45 1/2 | 47 1/2 |
| Inside Leg | 36 | 36 | 36 | 36 | 36 | 36 | 36 | 36 | 36 | 36 | 36 |
| Inseam | Length |
| --- | --- |
| 30 | 76.2 |
| 32 | 81.3 |
| 34 | 86.4 |
| 36 | 91.4 |
| Inseam | Length |
| --- | --- |
| 30 | 30 |
| 32 | 32 |
| 34 | 34 |
| 36 | 36 |