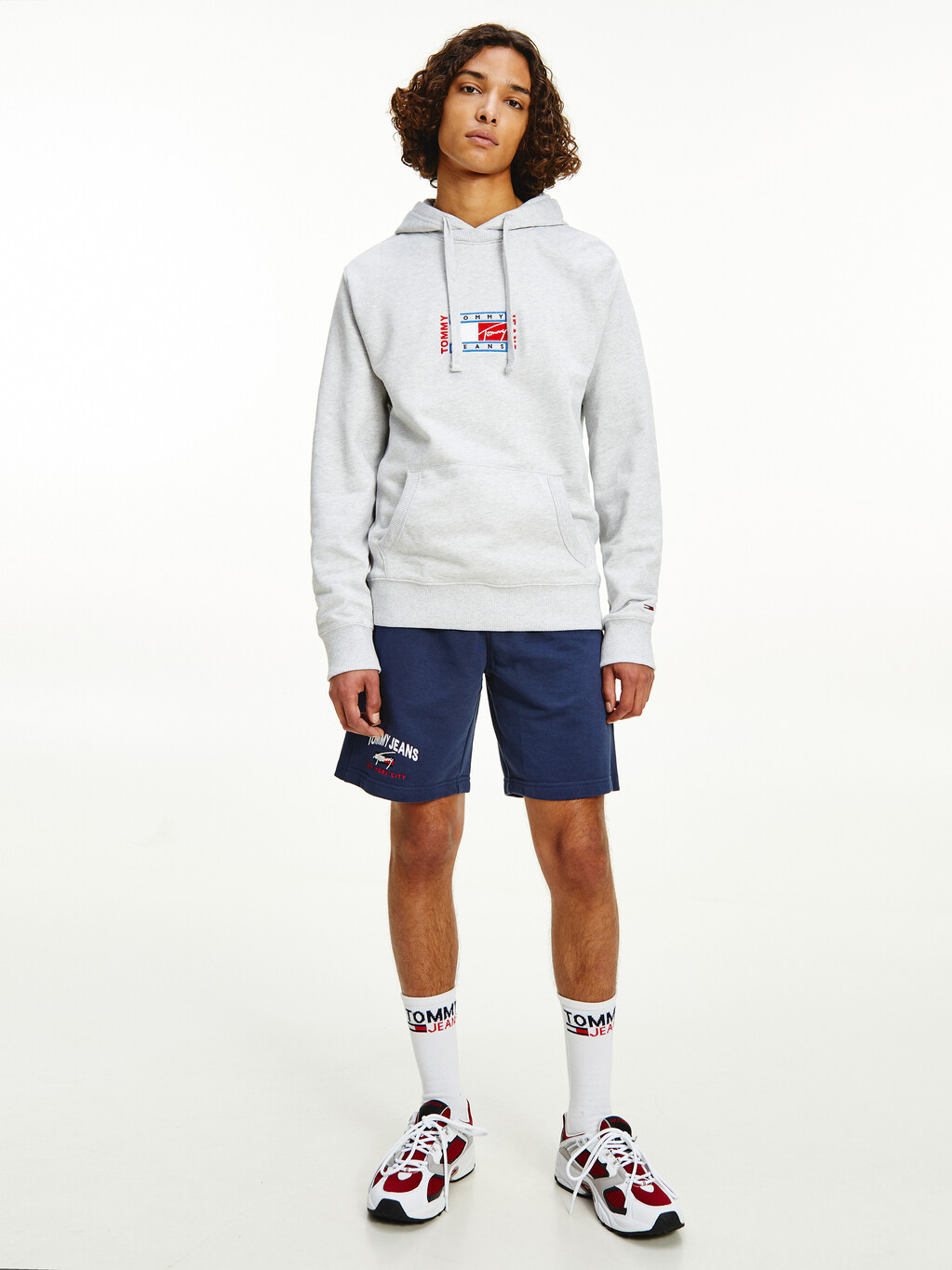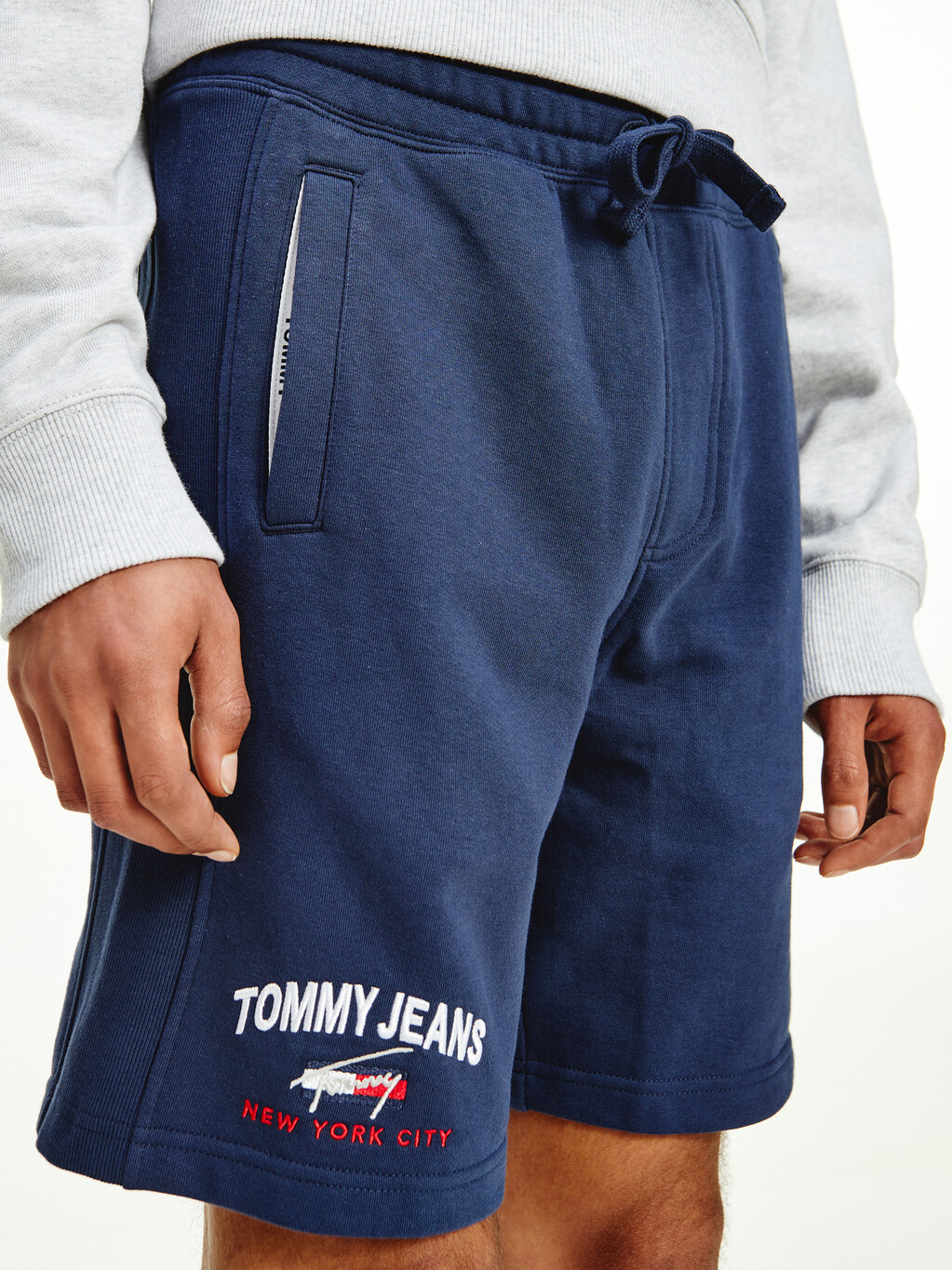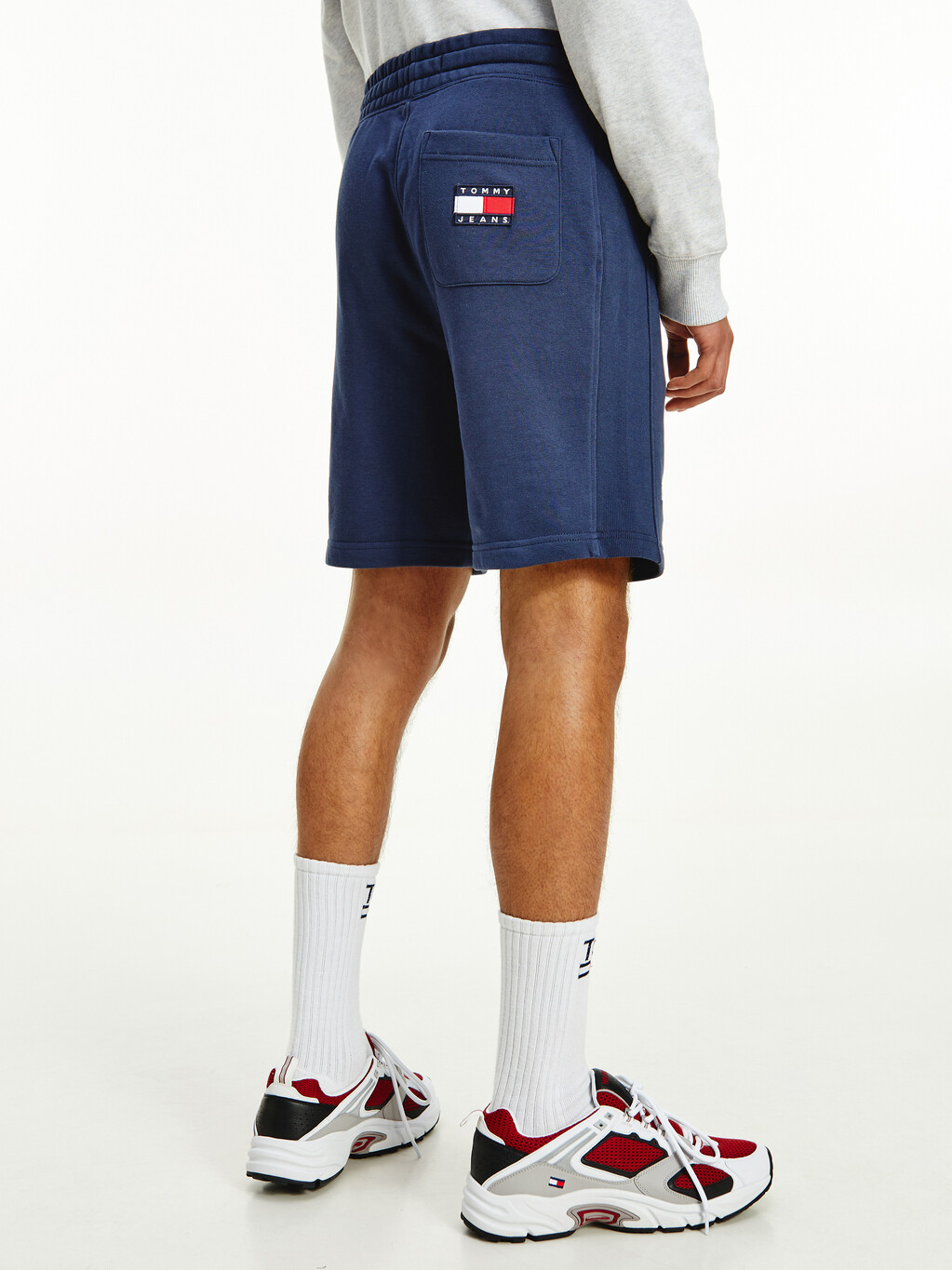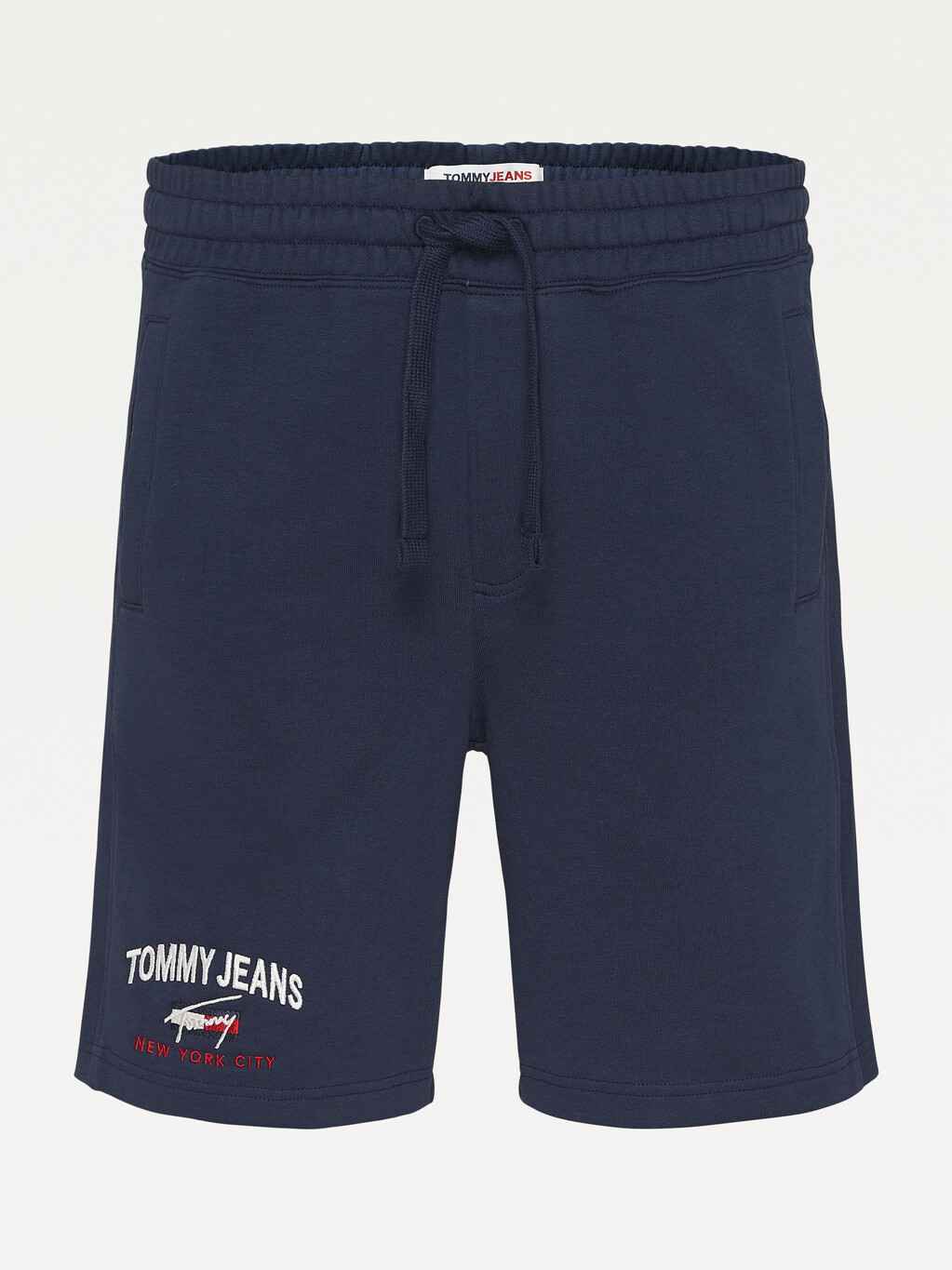 Price reduced from

HKD 690.00

to
HKD 414.00
Price reduced from

HKD 690.00

to
HKD 414.00
Please select from the available options
When you're planning to be out and about in sunny temperatures, choose these organic cotton blend shorts with subtle Tommy Hilfiger branding.
Highlights
Organic cotton and recycled polyester blend
Elasticated drawstring waist
One back patch pocket
Tommy badge on back
Tommy Jeans branding
Shape & fit
Regular fit
Our model is 1.86m and wears size M
Composition & care
89% organic cotton, 11% recycled polyester
ORGANIC COTTON
This product contains independently certified organic cotton, meaning it was grown without chemical pesticides, chemical fertilizers and genetically modified seeds.
RECYCLED POLYESTER
This product contains independently certified recycled polyester from used textiles, manufacturing waste or plastic bottles, reducing its environmental impact.
Now shipping to Hong Kong
Standard delivery is usually within 3-5 working days
Visit our customer services section for more information regarding payment methods, returns policy or contact our customer service team for further questions
Size Guide
To help you choose the best size, we recommend that you compare each product's measurements with your own.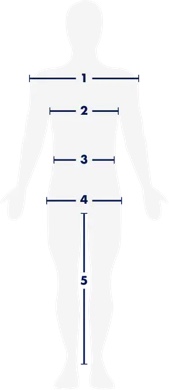 SHOULDER

From shoulder tip to shoulder tip

CHEST

The slimmest part of your natural waistline – above you navel and below your ribcage.

Hips

The fullest part of your hips at the top of your legs – approximately nine inches below your natural waistline.

INSIDE LEG

From the top of your inside leg at the crotch to your ankle.
All sizes are approximate.
| LABEL (XS - XXL) | XS | S | M | L | XL | XXL |
| --- | --- | --- | --- | --- | --- | --- |
| US + UK SIZE | 28 | 30 | 32 | 34 | 36 | 38 |
| FR + IT SIZE | 44 | 46 | 48 | 50 | 52 | 54 |
| EU SIZE | 44 | 46 | 48 | 50 | 52 | 54 |
| Waist | 82 | 86 | 90 | 94 | 98 | 102 |
| Hips | 93.5 | 97.5 | 101.5 | 105.5 | 109.5 | 113.5 |
| Inside Leg | 81 | 81.5 | 82 | 82.5 | 83 | 83.5 |
| LABEL (XS - XXL) | XS | S | M | L | XL | XXL |
| --- | --- | --- | --- | --- | --- | --- |
| US + UK SIZE | 28 | 30 | 32 | 34 | 36 | 38 |
| FR + IT SIZE | 44 | 46 | 48 | 50 | 52 | 54 |
| EU SIZE | 44 | 46 | 48 | 50 | 52 | 54 |
| Waist | 32 1/4 | 33 7/8 | 35 3/8 | 37 | 38 1/2 | 40 1/8 |
| Hips | 36 3/4 | 38 3/8 | 39 7/8 | 41 1/2 | 43 1/8 | 44 3/4 |
| Inside Leg | 31 7/8 | 32 1/8 | 32 1/4 | 32 1/2 | 32 5/8 | 32 7/8 |
| LABEL (24 - 34) | 27 | 28 | 29 | 30 | 31 | 32 | 33 | 34 | 36 | 38 | 40 |
| --- | --- | --- | --- | --- | --- | --- | --- | --- | --- | --- | --- |
| US SIZE | x | 28 | x | 30 | x | 32 | x | 34 | 36 | 38 | 40 |
| UK SIZE | x | 28 | x | 30 | x | 32 | x | 34 | 36 | 38 | 40 |
| FR SIZE | x | 44 | x | 46 | x | 48 | x | 50 | 52 | 54 | 56 |
| IT SIZE | x | 44 | x | 46 | x | 48 | x | 50 | 52 | 54 | 56 |
| EU SIZE | 27 | 28 | 29 | 30 | 31 | 32 | 33 | 34 | 36 | 38 | 40 |
| Waist | 71.1 | 73.7 | 76.2 | 78.7 | 81.3 | 83.8 | 86.4 | 88.9 | 94 | 99.1 | 104.1 |
| Hips | 87.6 | 90.2 | 92.7 | 95.3 | 97.8 | 100.3 | 102.9 | 105.4 | 110.5 | 115.6 | 120.65 |
| Inside Leg | 76.2 | 76.2 | 76.2 | 76.2 | 76.2 | 76.2 | 76.2 | 76.2 | 76.2 | 76.2 | 76.2 |
| LABEL (24 - 34) | 27 | 28 | 29 | 30 | 31 | 32 | 33 | 34 | 36 | 38 | 40 |
| --- | --- | --- | --- | --- | --- | --- | --- | --- | --- | --- | --- |
| US SIZE | x | 28 | x | 30 | x | 32 | x | 34 | 36 | 38 | 40 |
| UK SIZE | x | 28 | x | 30 | x | 32 | x | 34 | 36 | 38 | 40 |
| FR SIZE | x | 44 | x | 46 | x | 48 | x | 50 | 52 | 54 | 56 |
| IT SIZE | x | 44 | x | 46 | x | 48 | x | 50 | 52 | 54 | 56 |
| EU SIZE | 27 | 28 | 29 | 30 | 31 | 32 | 33 | 34 | 36 | 38 | 40 |
| Waist | 28 | 29 | 30 | 31 | 32 | 33 | 34 | 35 | 37 | 39 | 41 |
| Hips | 34 1/2 | 35 1/2 | 36 1/2 | 37 1/2 | 38 1/2 | 39 1/2 | 40 1/2 | 41 1/2 | 43 1/2 | 45 1/2 | 47 1/2 |
| Inside Leg | 30 | 30 | 30 | 30 | 30 | 30 | 30 | 30 | 30 | 30 | 30 |
| LABEL (24 - 34) | 27 | 28 | 29 | 30 | 31 | 32 | 33 | 34 | 36 | 38 | 40 |
| --- | --- | --- | --- | --- | --- | --- | --- | --- | --- | --- | --- |
| US SIZE | x | 28 | x | 30 | x | 32 | x | 34 | 36 | 38 | 40 |
| UK SIZE | x | 28 | x | 30 | x | 32 | x | 34 | 36 | 38 | 40 |
| FR SIZE | x | 44 | x | 46 | x | 48 | x | 50 | 52 | 54 | 56 |
| IT SIZE | x | 44 | x | 46 | x | 48 | x | 50 | 52 | 54 | 56 |
| EU SIZE | 27 | 28 | 29 | 30 | 31 | 32 | 33 | 34 | 36 | 38 | 40 |
| Waist | 71.1 | 73.7 | 76.2 | 78.7 | 81.3 | 83.8 | 86.4 | 88.9 | 94 | 99.1 | 104.1 |
| Hips | 87.6 | 90.2 | 92.7 | 95.3 | 97.8 | 100.3 | 102.9 | 105.4 | 110.5 | 115.6 | 120.65 |
| Inside Leg | 81.3 | 81.3 | 81.3 | 81.3 | 81.3 | 81.3 | 81.3 | 81.3 | 81.3 | 81.3 | 81.3 |
| LABEL (24 - 34) | 27 | 28 | 29 | 30 | 31 | 32 | 33 | 34 | 36 | 38 | 40 |
| --- | --- | --- | --- | --- | --- | --- | --- | --- | --- | --- | --- |
| US SIZE | x | 28 | x | 30 | x | 32 | x | 34 | 36 | 38 | 40 |
| UK SIZE | x | 28 | x | 30 | x | 32 | x | 34 | 36 | 38 | 40 |
| FR SIZE | x | 44 | x | 46 | x | 48 | x | 50 | 52 | 54 | 56 |
| IT SIZE | x | 44 | x | 46 | x | 48 | x | 50 | 52 | 54 | 56 |
| EU SIZE | 27 | 28 | 29 | 30 | 31 | 32 | 33 | 34 | 36 | 38 | 40 |
| Waist | 28 | 29 | 30 | 31 | 32 | 33 | 34 | 35 | 37 | 39 | 41 |
| Hips | 34 1/2 | 35 1/2 | 36 1/2 | 37 1/2 | 38 1/2 | 39 1/2 | 40 1/2 | 41 1/2 | 43 1/2 | 45 1/2 | 47 1/2 |
| Inside Leg | 32 | 32 | 32 | 32 | 32 | 32 | 32 | 32 | 32 | 32 | 32 |
| LABEL (24 - 34) | 27 | 28 | 29 | 30 | 31 | 32 | 33 | 34 | 36 | 38 | 40 |
| --- | --- | --- | --- | --- | --- | --- | --- | --- | --- | --- | --- |
| US SIZE | x | 28 | x | 30 | x | 32 | x | 34 | 36 | 38 | 40 |
| UK SIZE | x | 28 | x | 30 | x | 32 | x | 34 | 36 | 38 | 40 |
| FR SIZE | x | 44 | x | 46 | x | 48 | x | 50 | 52 | 54 | 56 |
| IT SIZE | x | 44 | x | 46 | x | 48 | x | 50 | 52 | 54 | 56 |
| EU SIZE | 27 | 28 | 29 | 30 | 31 | 32 | 33 | 34 | 36 | 38 | 40 |
| Waist | 71.1 | 73.7 | 76.2 | 78.7 | 81.3 | 83.8 | 86.4 | 88.9 | 94 | 99.1 | 104.1 |
| Hips | 87.6 | 90.2 | 92.7 | 95.3 | 97.8 | 100.3 | 102.9 | 105.4 | 110.5 | 115.6 | 120.65 |
| Inside Leg | 86.4 | 86.4 | 86.4 | 86.4 | 86.4 | 86.4 | 86.4 | 86.4 | 86.4 | 86.4 | 86.4 |
| LABEL (24 - 34) | 27 | 28 | 29 | 30 | 31 | 32 | 33 | 34 | 36 | 38 | 40 |
| --- | --- | --- | --- | --- | --- | --- | --- | --- | --- | --- | --- |
| US SIZE | x | 28 | x | 30 | x | 32 | x | 34 | 36 | 38 | 40 |
| UK SIZE | x | 28 | x | 30 | x | 32 | x | 34 | 36 | 38 | 40 |
| FR SIZE | x | 44 | x | 46 | x | 48 | x | 50 | 52 | 54 | 56 |
| IT SIZE | x | 44 | x | 46 | x | 48 | x | 50 | 52 | 54 | 56 |
| EU SIZE | 27 | 28 | 29 | 30 | 31 | 32 | 33 | 34 | 36 | 38 | 40 |
| Waist | 28 | 29 | 30 | 31 | 32 | 33 | 34 | 35 | 37 | 39 | 41 |
| Hips | 34 1/2 | 35 1/2 | 36 1/2 | 37 1/2 | 38 1/2 | 39 1/2 | 40 1/2 | 41 1/2 | 43 1/2 | 45 1/2 | 47 1/2 |
| Inside Leg | 34 | 34 | 34 | 34 | 34 | 34 | 34 | 34 | 34 | 34 | 34 |
| LABEL (24 - 34) | 27 | 28 | 29 | 30 | 31 | 32 | 33 | 34 | 36 | 38 | 40 |
| --- | --- | --- | --- | --- | --- | --- | --- | --- | --- | --- | --- |
| US SIZE | x | 28 | x | 30 | x | 32 | x | 34 | 36 | 38 | 40 |
| UK SIZE | x | 28 | x | 30 | x | 32 | x | 34 | 36 | 38 | 40 |
| FR SIZE | x | 44 | x | 46 | x | 48 | x | 50 | 52 | 54 | 56 |
| IT SIZE | x | 44 | x | 46 | x | 48 | x | 50 | 52 | 54 | 56 |
| EU SIZE | 27 | 28 | 29 | 30 | 31 | 32 | 33 | 34 | 36 | 38 | 40 |
| Waist | 71.1 | 73.7 | 76.2 | 78.7 | 81.3 | 83.8 | 86.4 | 88.9 | 94 | 99.1 | 104.1 |
| Hips | 87.6 | 90.2 | 92.7 | 95.3 | 97.8 | 100.3 | 102.9 | 105.4 | 110.5 | 115.6 | 120.65 |
| Inside Leg | 91.4 | 91.4 | 91.4 | 91.4 | 91.4 | 91.4 | 91.4 | 91.4 | 91.4 | 91.4 | 91.4 |
| LABEL (24 - 34) | 27 | 28 | 29 | 30 | 31 | 32 | 33 | 34 | 36 | 38 | 40 |
| --- | --- | --- | --- | --- | --- | --- | --- | --- | --- | --- | --- |
| US SIZE | x | 28 | x | 30 | x | 32 | x | 34 | 36 | 38 | 40 |
| UK SIZE | x | 28 | x | 30 | x | 32 | x | 34 | 36 | 38 | 40 |
| FR SIZE | x | 44 | x | 46 | x | 48 | x | 50 | 52 | 54 | 56 |
| IT SIZE | x | 44 | x | 46 | x | 48 | x | 50 | 52 | 54 | 56 |
| EU SIZE | 27 | 28 | 29 | 30 | 31 | 32 | 33 | 34 | 36 | 38 | 40 |
| Waist | 28 | 29 | 30 | 31 | 32 | 33 | 34 | 35 | 37 | 39 | 41 |
| Hips | 34 1/2 | 35 1/2 | 36 1/2 | 37 1/2 | 38 1/2 | 39 1/2 | 40 1/2 | 41 1/2 | 43 1/2 | 45 1/2 | 47 1/2 |
| Inside Leg | 36 | 36 | 36 | 36 | 36 | 36 | 36 | 36 | 36 | 36 | 36 |
| Inseam | Length |
| --- | --- |
| 30 | 76.2 |
| 32 | 81.3 |
| 34 | 86.4 |
| 36 | 91.4 |
| Inseam | Length |
| --- | --- |
| 30 | 30 |
| 32 | 32 |
| 34 | 34 |
| 36 | 36 |